Blue is one of the hardest colors for plants to produce. While we know that insects see colors differently to us, it's been proven that some pollinators – bees especially – prefer blue and white over other colors when choosing flowers to visit for nectar. Blue flowers are very common in the Himalayas, where they may have to work harder to attract the pollinators in bad conditions. It's thought that blue flowers exist to attract pollinators where there's a lot of competition, or pollinators with a poor visual spectrum can see blue more easily. 
The best way to improve your garden – whether it's an ornamental garden, or it produces food – is to attract a wide range of pollinators. This can be done simply by planting lots of varieties of flowers, which have adapted over time to attract different types of pollinators. You'll also see an increase of variety in the food chain – as the more different insect types you attract to your garden, the more predators will come. Attracting more pollinators can also increase crop yield, if you grow fruits or vegetables.
In this guide, you'll find a list of flower types varying in size which produce all kinds of shades of blue flowers, and there's bound to be a few to suit your own slice of paradise.
Blue Color Meaning & Symbolism
What's your first thought when you think of the color blue? A cloudless, hot summer sky? An open sea you'd find on a postcard? The horizon that goes on forever? While all of these things have a wide open space in common, it's a boundless color of freedom. No fences, no man-made landmarks, no clouds. Your gaze wants to find forever. 
Blue has connotations of peace and tranquility. It puts us in a state of relaxation. It's a 'fresh' color that allows stress to drain away, if you'll let it. Some people associate blue with sadness or melancholy, as it can lead to a state of reflection, and too much calm can surprisingly bring some restlessness! 
Blue also stands for importance, productivity, and confidence, leaving behind any negative associations with danger, like red or orange. It's also highly prized in many cultures, where it's associated with saints, royalty, and warding off bad spirits. Like purple, in some places blue was a highly prized dye as it was expensive to produce, so it was reserved for the upper class. In Iran, blue is associated with mourning.
It's a color that helps calm our minds, letting us take a deeper breath, the way gardens serve us. This is why many of us choose to fill our gardens with seas of blue. 
To find your tranquility in your own garden paradise, here's our list of the 55 most beautiful blue blooms you can have at home.
Comprehensive List of Natural Blue Flowers
Cornflower
Cornflowers, while known for their beautiful blue hue, also boast long thin petals on a bulbous head atop a long stem. They're an annual plant, which means they won't come back year after year like perennial flowers (see also Best Perennial Flowers To Grow) – you'll need to collect some seeds. Luckily, these guys are easy to grow, and can stay in the container you sowed them into if it's deep enough. While you can sow the seeds indoors, as soon as they're getting tall and lovely, they'll need to be outside in full sun, in well-drained soil. 
The cornflower (see also Cornflower Growing Guide) is the national flower of Poland. It's also referred to as the "Bachelor's Button Flower", where men would wear a cornflower to show their feelings for someone. They also symbolize wealth, hope for the future, and devotion. 
Iris
The Iris is named after the Greek goddess of the rainbow, which is apt, as it comes in many color combinations. The Goddess Iris was also the link between heaven and earth, and the messenger of the gods. The flower is known for the unusual petal shapes that open outward and drape down from the top of the stem. There's usually a beautiful pattern on the crown of the lower petals, which looks like stripes when you get close. There are a wide variety of types of Iris – some are happy in boggy, wet ground, on the edge of ponds or even in them, and some prefer much drier soil. You get both dwarf varieties and irises that grow to 4 foot, so there will always be a perfect spot for them. They prefer full sun if possible, but they can also do well in partial shade, depending on the variety. They also represent royalty, wisdom, and respect. 
Delphinium
Delphiniums boast some of the strongest, most beautiful blue hues, ranging from a baby blue to a rich, almost dark purple blue. They symbolize goodwill, protection, and strong attachment. The last one is probably due to the fact that they need good support. The easiest way of staking a delphinium is to put three stakes in a triangle, the plant in the middle. That way, when the wind blows in whichever direction it fancies, the plant won't fall over. To get the best out of a delphinium, you need well-drained soil and full sun for at least half of the day.
Delphiniums are good for tall spires of sprays of color, as the taller varieties can reach 8 foot (see also Top Tall Annuals And Perennials To Grow)! They don't do well in really hot weather, preferring some rain in summer. They make very impressive cut flowers or bouquets, if you have a strong enough heart to cut them when they're in bloom. Like roses, they benefit from a good deadheading once the flowers are finished.
The name 'delphinium' comes from the Greek word for dolphin. If you pick a single flower from a spike, it looks like a dolphin leaping. It's also the flower that represents a July birthday.
Blue Star
These gorgeous star-shaped flowers are no less beautiful for being compact. They can peek out of woodland like bluebells, and carpet similarly. It prefers partial shade, but it will tolerate full sun. Blue stars (see also Amsonia Types And Grow Guide) flower in late spring or early summer, depending on the weather, and helps to fill your garden with flowers in that transition between seasons. They don't mind a bit of drought, so they're not flowers you'll need to constantly soak for them to bloom. They represent endurance and strength. Keep in mind that the blue star is part of the dog bane family, and the white sap is a skin irritation, so wear gloves if you want to handle it. 
Hydrangea
Hydrangeas often steal the show in gardens. They're beautiful, hardy, don't mind a bit of winter, and the flowers often appear in spring and last for the whole summer if you take care of them. It's worth noting that the color of the flower depends on the alkalinity of the soil. In some cases, this means that in the same bed, you might have three different colored hydrangeas, depending on your soil and neighboring plants! Hydrangeas are one of the rare plants where you should leave the dead flowers on until spring – providing winter structure and protection from frost. They also make excellent dried flowers. Hydrangeas (see also Hydrangea Flower Meaning and Symbolism) symbolize honesty and preserving love, as the plant comes up again in the new year, and gratefulness. The name translates from the Greek "hydros," and "angos" which literally means "water barrel". 
Clematis
Clematis is perfect for vertical decoration. If you want a wall of color, clematis is the perfect choice. They come in all kinds of shapes and colors, and blue in particular is linked to courage and loyalty. They also represent ingenuity and beauty of the mind. Clematis prefers full sun, if you can give it. Well-drained soil ensures continuous blooms, and the seed heads are also something to behold once the flowers are over. The seed heads can be even more unusual than the flowers. Clematis is often paired with a climbing rose (see also Plants Perfect For Narrow Containers) for evergreen coverage and flowers throughout the year. They also have a lovely fragrance.
Perennial Geranium
One of the longer lasting flowers, geraniums can also bloom the most. They come in different colors and types – if you fancy a climber or a trailing plant, they do that too. Blue geraniums flower from June through to winter, as it can tolerate lower temperatures than other types of flowers. Like most of these plants, geraniums prefer well-drained soil where the roots don't sit in water, and they prefer full sun or partial shade. They also feature a great fragrance often used in cosmetics. Geraniums symbolize a wealth in friendship, happiness and general positivity. 
Periwinkle
If you want a perfect blue for ground cover in an unusual star and fan shape, a periwinkle is the flower for you. The color is reminiscent of the sky and the open sea. They spread fairly quickly, so if you've got a bare patch at the bottom of a flower bed where you have tall flowers, a periwinkle is a good option. It prefers less light, so it's also good for under trees or hydrangeas, and soil that doesn't sit in water. Too much sun can burn the plant, so be careful not to put it in a position where it's exposed to full sun. Periwinkles represent nostalgia and benevolence (see also The Meaning Behind Periwinkle Flowers). It was also a symbol used in religion in the Middle Ages, as a link to the Virgin Mary.
Empire Blue Butterfly Bush
Also known as Buddleia, this beautiful plant is a butterfly magnet. If you're lucky enough to have hummingbirds in your area, they also love this plant. It's not hard to see why – it smells gorgeous. Tiny blue flowers crowd the ends of tall, blooming branches. To really be at its best, it needs to be in full sun, the stronger, the better. It needs well-drained soil to prevent root rot, as it's native to a warmer climate. The buddleia symbolizes rebirth and new beginnings. 
Brunnera
Brunneras have tall sprays of tiny, five-petal flowers above the foliage. It's often the first sign of spring, as it blooms very early on in spring (see also Spring Blooms). You know when these guys are out, spring is here! While they like well-drained soil, they don't like sun particularly. They grow best in shade. There are some negative associations with this flower, such as anger and negativity. 
Forget-Me-Not
Ah, this is a lovely one. Chances are, you've already come across it a few times – it self-seeds and spreads quickly, so prepare to see sprays of it all over your garden. This can make for some gorgeous accidental planting combinations – ones you maybe wouldn't have thought of – but are lovely nevertheless. The name comes from a 15th Century legend, whereby anyone who wore this flower, would never be forgotten by the people they loved. Some people still hold this belief today. Forget-me-nots like moisture and shade (see also How To Care For Forget-Me-Nots), though they're relatively unfussy, and you can find them popping up in containers they've not been in before. They're easy to transplant, if you're particular about where they shouldn't live, or they've crowded another plant that needs more room.
Gentian
Gentians are mostly found in Europe (see also The Gentian Genus), and symbolize femininity. The unusual shape and color makes a great choice for a good display, which garden designers take advantage of. It attracts plenty of pollinators, and brings life to your garden with butterflies and hummingbirds. As it's found in alpine regions, how well this plant will grow in your garden depends on where you live, so reading up will help prevent problems later. Gentians symbolize charm and loveliness, like the plant itself.
Grape Hyacinth
It's easy to get this plant confused with a hyacinth, which is an entirely different plant. You can identify the difference in the shape of the flowers – the grape hyacinth has tiny fruit-shaped flowers with miniscule white frills on the ends. It blooms in mid-spring, a sign that the blooming season is here! Many cultures consider the grape hyacinth to be a symbol of trust. They're often used in floral displays as cut flowers. It's worth keeping in mind that grape hyacinths like to spread out, so if you've got a bare patch in your garden, the grape hyacinth will carpet it for you. They prefer well-drained soil, and preferably full sun, but they'll do okay in partial shade too.
Hyacinth
The smell of a hyacinth is very distinctive – a beautiful perfume that fills a room. You can start these off indoors – once they've finished flowering, plant the bulbs outside, and they'll come back next year and spread, so you'll be able to enjoy them outside too. The fragrance is what's made them so popular, admired by so many, the plants are also utilized in cosmetics and perfume. Blue hyacinths stand for sincerity. There's a particular story associated with the hyacinth's origin from Ancient Greece. Apollo, god of the sun, and Zephyr, god of the west wind, admired a boy named Hyakinthos, and spent a lot of time with him. Apollo was teaching Hyakinthos how to throw a discus, and Zephyr became jealous. In a fit of rage, Zephyr sent the discus back in a display of force, and killed Hyakinthos with a blow to the head. A flower grew from the boy's lifeblood, which Apollo named hyacinth.
Salvia
Salvia comes in many colors, but blue is regarded as particularly beautiful. It comes from the mint family, and you can use part of it as a tea. It prefers full sun, and doesn't mind higher temperatures and lovely sunny weather. Salvia is also known as Sage (see also Ornamental Sage Facts), meaning 'I save'. It represents good health, longevity and someone thinking of you. 
Passionflower
One of the most distinctive and recognizable flowers, it has the benefit of being hardy to winter conditions. It's highly prized for its ornamental value, and comes in all different kinds of colors. It is happiest covering fences and walls, blooming all summer and into the early autumn. If you can give it the most sunlight possible in a well-drained soil, it will bloom year after year. If you let it, it can grow up to 30 feet tall! The passionflower's name comes from Roman Catholic priests in the 15th Century, who named it after the final period of Christ's life, where it symbolizes hope of eternal life. 
Bellflower
Also known as campanula, this beautiful bell-shaped flower is the flower of choice for a cut garden and florist arrangements. It features in several fairy tales and comes in several colors. It performs best in full sun and soil that drains freely, but it won't hold semi-shade against you. Campanula translates from Latin to "little bell", and symbolizes gratitude, everlasting love. It is often used on graves. 
Desert Bluebells
These flowers are particularly hardy in dry, summery conditions. The more sunlight you can give it, the better. It's shaped a little like a geranium, sporting a fantastic vivid blue. It doesn't need regular watering, so it's one of those plants you can leave to fend for itself in the summer. Bluebells symbolize gratitude and humility, and love that endures. 
Still Blue-eyed Grass
Sadly, several types of blue-eyed grass are threatened or endangered. This plant is not classified as a grass, despite the name. It has pale blue flowers which are yellow in the middle, attracting a myriad of birds and butterflies. It's relatively easy to care for, as it can adapt to the soil type, but it blooms the best if planted in full sun. 
Glory-of-the-snow
These are gorgeous, hardy flowers that are often the first to open. The name comes from their habit of opening when there's still snow on the ground, making for a lovely display of blue against the white. They spread fairly easily, and flower through spring. If you can, plant it in well-drained soil to prevent root rot, and it enjoys full sun. They represent endurance, and harbingers of spring and new beginnings.
Oxford Blue
A gorgeous, and unusually large thistle flower, it attracts a variety of birds, butterflies and bees. The leaves are sharp, and the corn-shaped flowers have spines. Keeping this mind with the fact that it's poisonous in parts, it's not a good choice for gardens with children or pets. You must be careful to handle it only with gloves, and under no circumstances should you ingest it. If you do want to grow a magnificent oxford blue, it likes a sunny place where it won't get too much water. 
Morning Glory
It's always interesting to have a plant where you can see it adapt to the different times of day. Morning glory flowers bloom during the day, and close at night. It's worth remembering that they can be invasive plants, and some types do like strangling their neighbors, so bear this in mind when you're thinking about where it should go! It comes in a range of colors, and often appears in ornamental displays, as the flowers are relatively short-lived. It can take a couple of months to start blooming while the plant gets established. It likes full sun and well-drained soil. Blue morning glory flowers represent inner emotions, trust, mortality, and infinite love.
Veronica
If you fancy a plant that grows up to 3 feet tall, fairly resistant, and long spikes of tiny blue blossoms, the Veronica is the one for you (see also Veronica Grow Guide). It flowers throughout spring, summer, and autumn, giving you color for longer. Hummingbirds and butterflies love it, so you'll be able to watch the world go by. Veronica symbolizes fidelity and being true to someone, and the name refers to Saint Veronica, who was believed to be a woman who offered Jesus her handkerchief when he carried his cross to Golgotha. 
Blue False Indigo
Baptisia australis, literally translated as "immerse southern" was used in making blue dye, a cheaper alternative to indigofera tinctoria, hence the name "false indigo" as it doesn't give as vivid a hue. The small blue flowers are reminiscent of the shape of those in the pea family, and cover long stems. Be sure of where you want to plant it, as uprooting an established blue false indigo is likely to kill it, as it has fragile roots. It prefers full sun, but it will tolerate partial shade. Blue false indigo represents protection. 
Harvestbells
This beautiful low-growing plant is ideal for ground cover. It's a perennial, so it will come back year after year. It's commonly found in bogs, stream banks and roadsides in moist soil with full sun. Normally, it flowers in September, and can continue through to November, depending on the climate. Soapwort refers to the lather it creates when it comes into contact with water, although it's worth noting that the roots are toxic. Historically, the plant was used to clean delicate fabrics. Bees, butterflies and some birds are attracted to its strong fragrance.
Sweet Pea
Sweet pea flowers (see also Sweet Peas: Annual VS Perennial Types) are often used as cut flowers, as they're prolific in blooming throughout the summer. By cutting off the existing flowers when they're in bloom, this promotes new growth and encourages more flowers as no energy goes into making seed heads. They have a gorgeous scent, which is unsurprisingly used in perfume. It grows up trellises fairly well, and requires strong support and full sun. Sweet peas represent appreciation and a departure or a significant change in life. 
Blue Mist Shrub
This plant features 'mists' of blue flowers, fine petals that splay outward into tiny points. It's an architectural favorite among gardeners, and comes to life in late summer. The flowers brim with nectar, attracting pollinators. To encourage strong blooms, prune it back in spring. 
Poor Man's Weatherglass
This is one of those plants whose name grabs you immediately. Also known as a scarlet pimpernel, red chickweed, and a poor man's barometer. It's believed that this flower only blooms when the sun will shortly be out, and closes when rain's coming, hence the name of being able to tell the weather without a weather glass. It's fairly easy to care for, and prefers partial sun and soil that drains well. 
Blue Orchid
One of the most frequently asked questions about orchids is "Do blue orchids exist?" The answer is yes. You should be careful though when buying a blue orchid – a few retailers will spray a pale orchid blue and sell it as a houseplant, which is not the natural blue orchid! The way to tell if the orchid is the color it appears, is to very gently run a finger over a petal. If it is dyed, the color will come off. Orchids require specialist bark and feed in order to thrive. They're prone to root rot, so water them sparingly. They need transparent pots for the roots to develop properly, as they need the light to do so. Depending on the type, some orchids prefer less light overall, as they naturally grow on trees where there's less light. Orchids represent fertility and virility. In Victorian times, they were a luxury item as they were so rare, and if they were given as a gift, they symbolized a deep passion for someone. 
Veronica Georgia Blue
This is a plant that likes to stay close to the ground, and some use it as ground cover between spring bulbs to fill in the gaps. It flowers in spring, and doesn't make too many demands, other than full sun and draining soil.
Lupine
Lupines are very unusual, prized for their beautiful spires of stacked flowers, which come back year after year (see also How To Grow Lupines). They also self-seed, and grow well in full sun. If you want to collect the seeds, this is easy to do by deadheading the seed pod and storing the seeds in a brown paper bag for next year. In order for them to germinate, they need a cold period to 'wake up', which you can mimic by putting them in damp towel in the fridge, a week before you plant them into soil. Lupines represent a positive outlook or a hunger for what life can offer. 
Himalayan Blue Poppy
This is the hardest poppy to grow, but widely regarded as the most beautiful. It's tricky as it's found in Tibet and other challenging places that have some severe conditions, and wants to grow in its natural conditions, making it quite picky about its environment. If you're up to the challenge, research its native habitat and see how you may be able to mimic the same growing conditions. This flower is also known as the Queen of poppies. 
Love-in-a-Mist
This gorgeous annual flower belongs to the buttercup family. While it's native to Southern Europe, it also grows in North Africa and Southwest Asia, in damp patches of land. It's also known as ragged lady, or devil in the bush. The name love-in-a-mist comes from the flowers appearing in a ring of lacy, fine leaves. It prefers full sun, and doesn't like being transplanted, but the seeds are easy to collect.
Lobelia
Another gorgeous annual, this one is particularly easy to grow from seed. It's often used to cover the topsoil of containers, allowing taller flowers to spring up and create a beautiful display. Lobelia has a long flowering period of the whole summer into early autumn, right up until the first frosts. It prefers cooler weather, and while it tolerates sun, it prefers indirect light. Lobelia symbolize distinction and harboring negative feelings for someone. 
Lungwort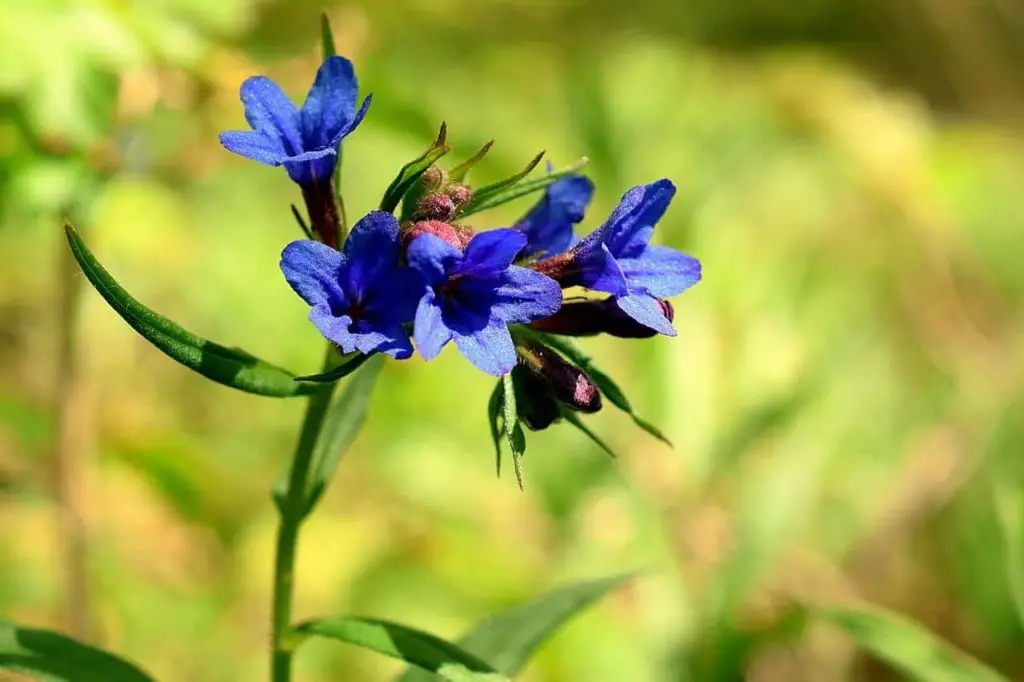 Naturally found in forests, lungwort is relatively easy to grow and unfussy. It requires well-drained soil and a shady position. It's part of the borage family, also known as pulmonaria. The name lung wort puts people off, though it refers to its use in medicine to treat the lungs. Bees love this plant! Lungwort is associated with air as an element, and has been used in the past to represent protection when travelling in an airplane.
Birdbill Dayflower
Often, the most beautiful flowers don't last long. The birdbill dayflower, or commelina dianthifolia, only flowers for a day. You can identify it by the three large petals that form a triangle.  If you're fond of growing short-lived flowers, grow them in containers next to plants which bloom at different times for an ever-changing display. While it needs well-drained soil, it prefers a moist ground and full or partial sun. A birdbill dayflower represents mortality and appreciating beauty while it lasts. 
Siberian Squill
Siberian squill (see also Scilla Plant Guide) are native to Russia, and need a cold winter in order to 'shock' the plant into growing in the spring. They can often appear in lawns and gardens where they weren't planted! It enjoys full sunlight and well-drained soil, acting as a good ground cover.
Columbine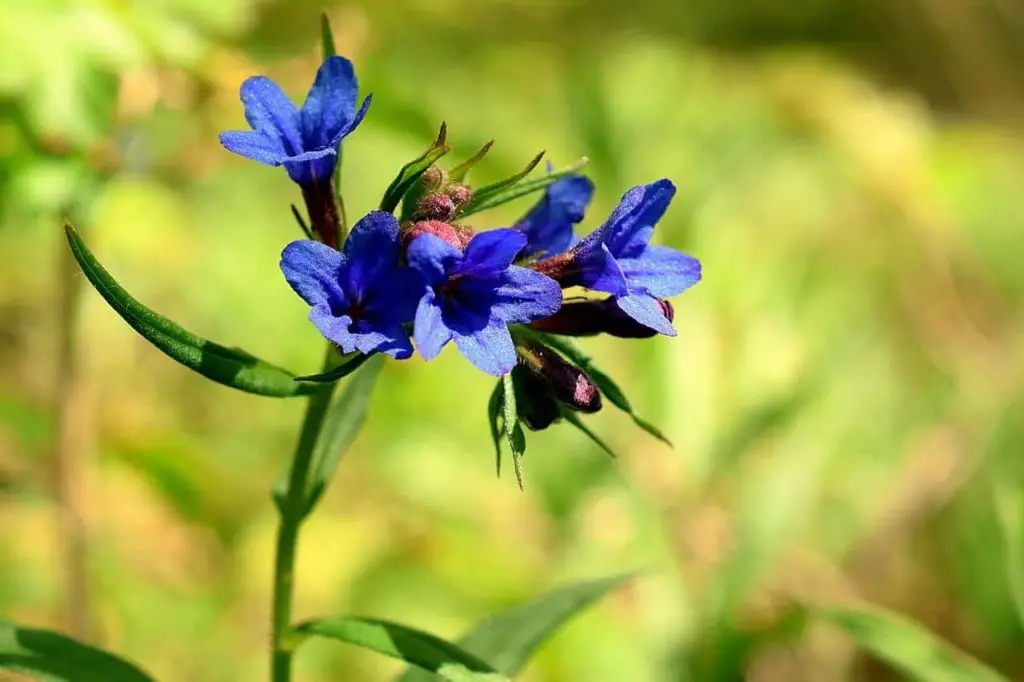 Columbines come in a variety of colors, which are usually two-toned. The blossoms are large and delicate, and attract humming birds. Like most of the plants on this list, it prefers well-drained soil and full sun. In order to protect a columbine from frost, mulch the soil. The mulch adds a protective layer to insulate the ground, keeping it a bit warmer than the surface. The Celts believed that columbine represented dreams and visions, and the flowers served as portals to earth. 
Flax
Flax adds a vivid color to the garden, but it only blooms for a couple of days. To enjoy it for longer, you could try staggering when you sow the seeds, or simply grow more of them! Flax has been a very useful plant since the dawn of time. We make linen from it, and linseed oil. It prefers direct sun and well-drained soil, but it's an adaptable plant that will grow in a lot of conditions. Flax represents the domestic world, the home, and the safety and comfort it brings. 
Mountain Larkspur
Like most beautiful flowers, the Mountain Larkspur is poisonous. So please don't plant it where children or pets could get at it. It's a type of delphinium, also known as the naked delphinium. It grows in mountain foothills and rocky places as a wildflower. To grow it in your garden, put it in a sunny spot with well-drained soil. 
Aster
Asters are worth the wait – they bloom in late summer and autumn. They come in a range of colors of pinks, yellows, whites, reds and purples which spring up all over the plant. It often flowers through until the frosts really set in, so it's often called the frost flower. The ancient Greeks believed that burning aster leaves would ward off evil spirits. Asters were also believed to be sacred, and were used in wreaths on altars.
Lily of the Nile
Also known as agapanthus, this is a globular spray of flowers which come in many shades of blue. Directly translated from Greek, it means 'the flower of love', which is often used to confess deep feelings for someone. The stems grow tall, which makes for a perfect addition to a border to add height. You can also use the dried flowers as decoration in the winter months. It likes well-drained soil, and full sun. It blooms throughout summer and early autumn, if you care for it. If you're growing it in colder conditions, it will grow better in a container as this will protect the plant from colder temperatures. 
Globe Thistle
Globe thistles attract architectural interest to any border, with their distinctive globular flowers which attract pollinators. It also creates a great dried arrangement, which florists take full advantage of. The leaves are also great structural foliage to have in borders to create interest. It prefers sandy soil and full sunlight. 
Monkshood
Also known as wolf's bane, this plant is extremely beautiful but also extremely poisonous, so don't plant it in a garden where children or pets can get it. The flower itself is very distinctive, which looks like a monk's hood, hence the name. If you're even thinking of handling this plant, wear gloves, and wash your hands afterward. Monkshood is traditional a symbol of protection and was used to ward off evil (see also Monkshood Uses). Historically, in Ancient Greece, shepherds laced their arrows with the flower to kill wolves and protect their flock. 
Blue Daisy
Blue daisies (see also Types of Daisies) are native to the Southern coast of South Africa, where it grows as a bedding plant. They're easy to grow and are relatively unfussy about their conditions. They don't mind huge weather changes like some plants suffer from, and prefer moist soil. These flowers are associated with appreciation and simplicity. Blue daisies represent innocence which stems from youth. 
Anemone
There are many types of anemone that come in blue, and all are beautiful. They flower through every season except winter, and represent good luck, unlike white anemones which symbolize death and remembrance. The blooms are especially beautiful when planted with other plants where they stand out. Planting them in November is a good time, as they get the 'shock' of cold weather, which then brings them up in spring. Anemones tend to produce a lot of flowers per bulb. Anemones represent a variety of ideals, from protection against evil to forgotten love or a relationship that has fizzled out but the emotions remain. 
Scabiosa
Scabiosa are easy to grow from seed, and bloom throughout summer. They come in a whole spectrum of colors, and have a really unusual flower shape. They're also easy to maintain, and quite like dry periods and high temperatures. To promote new flowers, deadhead any that are fading before they have to spend a lot of energy producing a seed head. Scabiosa represents warmth and love, and originates from the honeysuckle family. 
Sea Holly
Also known as eryngium, sea holly like it best in poor soil (see also Sea Holly Grow Guide), where they can get lots of sun. They're very architectural as a flower, and you can recognize them as a thistle with very long outer petals. They're a good choice for desert or drought tolerant planting areas, which don't require a lot of maintenance, feeding or watering. Some Native Americans used it to treat rattlesnake bites. They typically symbolize independence and attraction. 
Chicory
Also referred to as the blue dandelion, the chicory flower is quite similar in appearance to the traditional dandelion. It started off as native to Europe and Asia, and you can now find it across the world, where plant enthusiasts have introduced it. It symbolizes love, sympathy and desire. It has historically represents perseverance. 
Balloon Flower
We're spoiling you with unusually shaped flowers in this list! The balloon flower comes in blues, whites, and pinks, and boasts balloon-shaped buds which open into a star shape. The symbolism behind the flower is love and honesty.
Blue Hibiscus
Blue hibiscus is prized for its unusually strong hue, with a purple and white center. It's the rarest of colors found in Hibiscus, and symbolizes infinity and enduring love (see also Hibiscus Flower Symbolism). Other colors you can find are red, purple, yellow, pink, and white. Blue hibiscus blooms from spring into early autumn, and loves full sun. It needs regular watering to maintain its beauty.
Impatiens Flower
An annual flower, (see also Perennial vs Annual) the impatiens works hard and blooms from early summer until the first frost of autumn. They come in two different forms – a large, flat-surfaced flower, or a more tropical, orchid shape flower. They typically symbolize motherly love or the appreciation of your mother and everything she's done for you.
Violets
Violets are very easy to grow (see also How to Grow Violets) from seed, and the flowers are edible, making for a delightful display in salads and desserts. They wildly range in color, from a full blue to two toned cream and purple, among others. They self pollinate, and new plants can spring up where you weren't expecting! Violets symbolize happiness, balance and harmony.
Blue Calla Lily
Calla lilies are beautiful plants in their own right (see also Calla Lily Symbolism And Meaning). They have huge foliage which can be an architectural focal point in the summer, and the flowers are no less beautiful. They're often the centerpiece of table arrangements and weddings. The blue calla lily is a hybrid, as calla lilies only used to produce white flowers. Now, you can find them in blues, pinks, purples, and even blacks. The blue calla lily symbolizes peace, gratitude, status and royalty. 
Ipomoea Flower
A type of morning glory, these gorgeous blue flowers open with the sun. They close when they no longer feel the sun's warmth. You should enjoy them while you can – they often don't live into the afternoon. Luckily, this plant staggers its flowers, so new ones follow pretty quickly. It's a plant that's easy to grow, and can be sown directly into the soil. Be mindful that this plant can and will take over its neighbors, so don't plant it next to something you're attached to.