As you may, or may not know, roses are one of the most widely hybridized flowers in the world. 
When we think of roses, we tend to picture huge blooms in an array of colors, with petals stacked upon petals. This is an image of a modern rose. The first roses didn't look like this. 
Picture a wildflower rose, a flower with only five or six petals at the most, in just a few colors, and you'll have a better idea of what the first rose looked like.
Once we realized we could breed roses for different purposes, we started to produce loads of new types. There's now a shape, color, and growing style for every garden situation. 
Some have been bred for their fragrance, their color, their shape, or their resistance to pests or disease. 
Orange roses weren't created until more than a century after the yellow rose, and this has lit a fire under the aim to create different and exciting new colors in roses.
No one's managed the blue or the black rose yet, but it probably won't be too far off. 
Orange roses are available in a wealth of different hues, from a soft coral, to a vivid sunset. They add another dimension to what is already a very popular plant, admired all over the world. 
Origin and History of the Orange Rose
While we often think of red and yellow roses as the same species of plant, often they can belong to different cultivars, and have different origins to each other. 
They enjoyed popularity throughout the 1900s, and still do today, but when the orange rose came about, they had to move over for the newcomer.
In the 1950s, the first rose with an orange pigment called pelargonin was introduced, as a result of crossbreeding red and yellow roses (See also Yellow Roses Meaning, Symbolism and Varieties to Grow). Before that, any hybrids created had either turned out yellow or red blooms, instead of the desired color.  
Because it was so popular, new hybrids of different shades of orange were created in a short span of time to maximize on the craze. 
This is not a bad thing in itself, as more varieties mean greater resistance to disease – if one is wiped out by disease, another will hopefully survive. This has been true of crops such as bananas for centuries. 
Nearly all the bananas we eat are descended from one variety, because the originally popular type (Gros Michel) was wiped out by disease.
What Are The Different Varieties of Orange Rose?
Rosa 'Independence'
It's sort of a given that this one needs mentioning first. In 1951, the first orange rose of its kind was created by Wilhelm Kordes II, and named Independence. This plant produces orange-red, double-petaled flowers which feature some fragrance. 
As with all floribunda roses, Independence produces lots of clusters of blooms.
Rosa 'Ashram'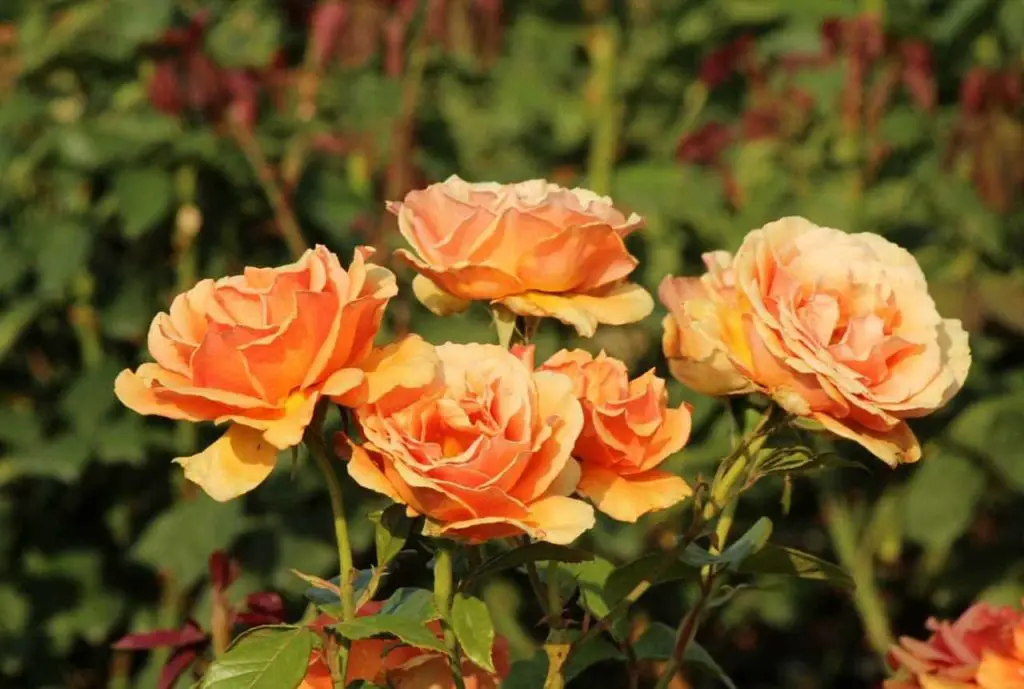 A hybrid tea rose, the Ashram reaches around 1.3 meters tall, and comes both in bush form and as a standard. The color ranges from coppery to apricot orange, and it has a fruity fragrance. 
It's also reasonably resistant to black spot (see also Black Spot and Other Common Rose Diseases and Pests Every Gardener Should Know). It was bred in Germany, and brought into the market by Rosen Tantau in 1998. Rosen Tantau also created the first orange hybrid tea rose in 1960.
Rosa 'Roald Dahl'
An English shrub rose, this one was bred by David Austin, and introduced in 2016. It features gorgeous apricot roses with a tea-like fragrance. 
The name marks the centenary of the birth of the author Roald Dahl, well-loved for his children's books, and the original sales produced £100,000 for the children's charity created in his name.
The color also refers to the peach in "James and the Giant Peach". 
Rosa 'Gebruder Grimm'
Also known as the Brothers Grimm Fairy Tale, this rose is a floribunda, so the plant produces lots of clusters of flowers. 
Blooms are bright orange, which fade to pink, and are yellow on the reverse. It's shade tolerant, but like most roses, it prefers full sun, and grows up to 5 feet high in warmer climates. 
Rosa 'Flower Carpet Amber'
If you're after some color as well as a plant that will sit happily as ground cover, Flower Carpet Amber is a good choice. 
The blooms are a soft yellow-orange, and sit on top of dark-green, glossy leaves which are resistant to disease. They grow up to 2 feet tall, and need full sun where they can get it.
Rosa 'Alexander'
One of the brightest shades of orange you can get in a rose, this variety has won many awards over the years. This is also an interesting rose because the color doesn't fade as the flower gets older.
It's a hybrid tea rose, introduced in 1972 by Jack Harkness. The name honors Field Marshall Harold Alexander. 
Rosa 'Lady Marmalade'
A floribunda shrub rose, this gorgeous plant produces tangerine-orange blooms which have a yellow center, and feature a spicy fragrance. It's also pretty disease-resistant, and flowers throughout the summer. 
Rosa 'Duchess of Cornwall'
Bred by Hans Jürgen Evers from Rosen Tantau, this is an orange rose with an old-fashioned shape which can feature up to 100 petals per bloom. Each flower can grow up to 10cm in diameter, making for a truly spectacular display. 
In France, it's known as 'Music Hall', and in Germany, 'Chippendale', referring to the style of Rococo. 
It was introduced in 2005 as a hybrid tea rose, and the shrub can reach up to nearly 4 feet high. 
Rosa 'Bronze Star'
A beautiful hybrid tea rose, this plant produces huge blooms ranging from apricot to antique bronze in color, accompanied by a honey-like smell. 
If you're after a tall rose, this is a good option to go for. It should reach up to 5 feet in height, getting about 3 feet wide.
Rosa 'Buff Beauty'
While an English shrub rose, this plant ideally needs to sit at the back of a border, as it produces arching stems, which you can then train up walls or other structures to support these blooms.
If the double flowers in shades of apricot, to yellow, to cream weren't enough, the leaves are red when they open, and become green as they mature.
Rosa 'Daybreaker'
Daybreaker is a great option if you want color that changes as the flowers get older. It starts off as a bright apricot mingled with yellow, and fades to a gorgeous light pink and orange as the flower gets older, but all shades are reminiscent of the sunrise. 
As a floribunda rose, this forms clusters of large blooms.
Rosa 'Lady Emma Hamilton'
Another rose cultivated by David Austin, Lady Emma Hamilton is another plant which produces different hues. 
The buds start out red with orange edges, and the open flowers are tangerine with yellow tinged outer petals. 
Rosa 'Super Trouper'
Bearing beautiful mandarin-orange flowers that stand out against the dark leaves, this rose is upright and compact, perfect for containers or in a border. 
It's not a rambling rose (see also Climbing And Rambling Rose Differences), so it will behave next to its neighbors and won't try to strangle them. 
Rosa 'Remember Me'
One of the deepest shades of coppery-orange available in a hybrid tea rose, these double blooms grow particularly large on a smaller shrub. 
It's also a fully hardy rose, and produces a light fragrance. The cultivar was created in the 1980s by Anne Cocker, and is sometimes referred to as 'Rose d'Amour'. 
Rosa 'Perfect Pet'
Sometimes planted in remembrance of beloved pets, this plant bears deep apricot flowers which appear in large clusters. The leaves are bronze, turning a deep green as the plant matures. 
Rosa 'Pat Austin'
Bred in 1995 by David Austin, this English shrub rose grows large, brightly colored copper flowers which fade to a coppery yellow on the outer petals. The flowers produce a warm, strongly-fragrant tea scent. 
It's a happy plant in all soil types, but needs full sun in order to thrive.
It was named after David Austin's late wife.
Rosa 'Folklore'
Bred by Kordes in 1977, this hybrid tea rose is often grown for its coral orange flowers which take on a yellow tinge. 
The foliage has a reddish tint, and the plant is known for being very resistant to disease. It also boasts a strong fragrance.
Rosa 'Fellowship'
Introduced in 1992 by Harkness, this floribunda rose produces bright orange flowers with a strong, sweet scent. It's ideal for pots and in borders, growing to 3 feet high and up to two and a half feet wide. 
What does an Orange Rose Symbolize?
Red roses (see also Red Roses Meaning, Symbolism and Varieties) You Can Grow have remained the symbol of love and passion, and yellow roses represent affection, friendship, and respect.
But what about the orange rose? Orange roses are a little more mysterious.
They're a poetic choice for flowers if you want to keep the meaning a little ambiguous. 
For example, if you have a long-standing friendship which you might be developing romantic feelings for, but you don't want to go there yet. You might never want to, but it could start to feel like a burden. 
Flowers are a great way of expressing how you feel without the awkward scramble for words, that terrible silence while the other person waits for you to just say it. 
Orange flowers are a perfect choice for summer, to treat yourself or someone else. They embody the intense feelings and inspiration a picturesque sunset can cause, and an unrivalled passion.
Roses in shades of orange are also a popular choice for celebration. Graduations, birthdays, and anniversaries are all good excuses to bring out an orange bouquet, as these flowers express the glow in the delight of someone achieving in life. 
Orange also symbolizes positivity, enthusiasm, and warmth that someone brings to your life. 
Roses in different shades of orange are perfect for expressing the myriad of feelings someone invokes within you. They tell the recipient how you're looking forward to the future because they're in it, and everything's that much brighter for it.  
The sheer vivid shades of orange roses will carry any meaning you choose to put behind them, and as they're a relatively new color, the "traditional" flower meanings aren't as cemented. 
They mean exactly what you want them to, and if that sparks a conversation, so much the better.