There is something truly striking about plants which have extremely dark flowers. 
They draw you in with their mystery, their unique appearance, as we tend to think of flowers as bright and uplifting, but there is a certain je ne sais quoi about flowers that are very nearly black.
If you're looking to create a truly, unquestionably unique planting scheme within your garden, why not go for a bed of purely dark flowers? Or mix the darkest shades with the brightest whites for the ultimate drama. 
Many flowers that are marketed as black are usually extreme shades of purple, red, or brown. They also add sophistication and an air of mystery to any space.
If you're looking for a new challenge, why not try growing some or all of these types of black flowers? 
Tulipa 'Queen of the Night'
One of the darkest shades tulips are available in, 'Queen of the Night' is an enigmatic flower which can come in either plum or a very dark purple which looks black in most lights. 
Aside from pansies (See also Pansy Flower Meaning and Symbolism), this flower is considered to be one of the darkest. 
It also has the added benefit of looking different depending on the light of the day, where it can appear as a maroon, a mahogany, or a pitch black, creating an ever-changing display.
As a tulip, this lovely dark flower can be grown in the ground or in pots, and will look fantastic wherever you choose to plant it. Tulips prefer full sun, somewhere that they'll be able to drain freely. 
This flower also symbolizes strength and power, and exudes a royal air, as you may guess from the name.
Zantedeschia 'Odessa' Calla Lily
Calla lilies are beautiful plants that love wet or boggy soils. You can grow them indoors and outdoors, but wherever you choose to plant them, they need full sun.
Calla lilies are very easy to care for, and the black calla lily is among one of the most classic dark blooms available. 
They need to be planted fairly deep into soil, and require regular feeding in order to produce the most blooms possible.
Helleborus 'Garden Black'
While highly toxic, the hellebore 'Garden Black' is a very striking plant that produces large flowers in the darkest shades of purple, contrasting well with the white 'eye' at the center of each flower. 
They do particularly well under shade or even as carpeting plants under trees and large shrubs, providing a lot of color and drama to a space which is usually sparse. 
Hellebores spread very well, though they will take a long time to take over a space, and need very little maintenance. 
Hellebores are easy perennials to grow, and they'll provide color and interest to any garden with very little effort needed. 
Tacca chantrieri 'Bat Flower'
As part of the yam plant family, the bat flower has one of the most interesting appearances in a tropical flower. It almost looks menacing, and also carries the names of 'devil flower' and 'cat's whiskers'.
The flower itself can get to 6 inches in diameter, and features two very dark bracts which look like a bat's wings. It also produces huge filaments that hang down from the bloom.
It's worth knowing that this plant is not hardy, so if you live somewhere cooler, you'll need to grow it as a houseplant in order for it to thrive.  
Pansy 'Black Moon'
One of the most impressive nearly black flowers you can grow, 'Black Moon' is a fantastic bedding plant. Although it is an annual plant, it's easy to grow from seed. 
Normally, pansies come in very bright colors, but perhaps the most interesting of all is the near-black blooms, each of which have a tiny, bright yellow center.
They make a great contrasting plant, especially for a dramatic display if you offset them with very bright colors. 
These flowers are also edible, which makes the possibilities in decorating cakes and dishes endless!
Dahlia 'Black Beauty'
While all dahlias are beautiful, extremely dark dahlias have an exquisite beauty about them. 
Dahlias are extremely easy to grow, despite their often delicate and elaborate blooms, but this only adds to their character.
They also make a fantastic cut flower, or as an accent in containers or in borders. If you're after a more gothic feel to your green space, you can't go wrong with a black dahlia, as it adds both architecture and interest into any space.
Depending on the variety, some dahlias demand more water than others, but all prefer full sun and well-draining soil.
'Black Beauty' isn't the only variety that comes in a near-black. Because dahlias are very easy to breed, there are plenty to choose from. Some examples include 'Light's Out', 'Black Wizard;, 'Tamburo' 'Arabian Nights' and 'Black Jack'.
Petunia 'Back to Black'
Petunias are very striking plants in their own right, but there's arguably few petunias that are as gorgeous as the black petunia. 
With their velvety blooms, their texture is only accented by the very dark shades. They also have the benefit of being extremely easy to grow. 
'Back to Black' is a fantastic star-shaped variety, part of the Crazytunia series. They are very hardy plants, and will shoulder the brunt of most weather conditions.
They can be planted in borders, hanging baskets, and normal containers, but wherever you choose, they'll make a bold statement. Once you've seen these beauties flower, you'll want to have them as a staple in your garden year after year.
Other black cultivars such as 'Black Velvet' are also very striking. 
It is worth noting though, depending on the soil conditions, your petunias can change hue, especially if the watering levels or the temperatures change dramatically.
This only adds to their dramatic display, though you can control this through how much light they receive, their temperature, and the watering schedule. 
For best results, keep them in pots, where you can control these conditions a little easier.
Cosmos atrosanguineus 'Chocolate Cosmos'
Do you love chocolate? Does the smell promote feelings of bliss? Well, the chocolate cosmos is for you.
While not as dark as some blooms on this list, the chocolate cosmos is notably more burgundy, and it's just as beautiful.
Unfortunately, it's an annual. If you want the tasty smell of chocolate wrapped up in a flower to grace your garden year after year, you'll need to sow the seeds. This is very easy though!
The flowers themselves can reach 2 inches in diameter, and these gorgeous blooms flower from midsummer until the temperature drops in early autumn.
They cannot stand cold temperatures, so they are really suited for the height of summer (see also Summer Flowers), where warm, drowsy weather makes the scent of these blooms truly spectacular.
Viola 'Molly Sanderson'
If you like the idea of a black pansy, but you want it in a smaller form, 'Molly Sanderson' is the perfect violet for you. 
Depending on when you plant the violet, it tends to bloom from early to midsummer, and produces some of the most vivid colors in such a compact, resilient form. 
Violets are very popular bedding plants, and this rich color in the 'Molly Sanderson' variety only adds to their appeal. Keep these blooms watered during hot weather, and they will keep producing flowers for as long as possible.
It's also an edible flower, which makes for interesting cake decorations or as a salad garnish. 
Rosa 'Black Baccara'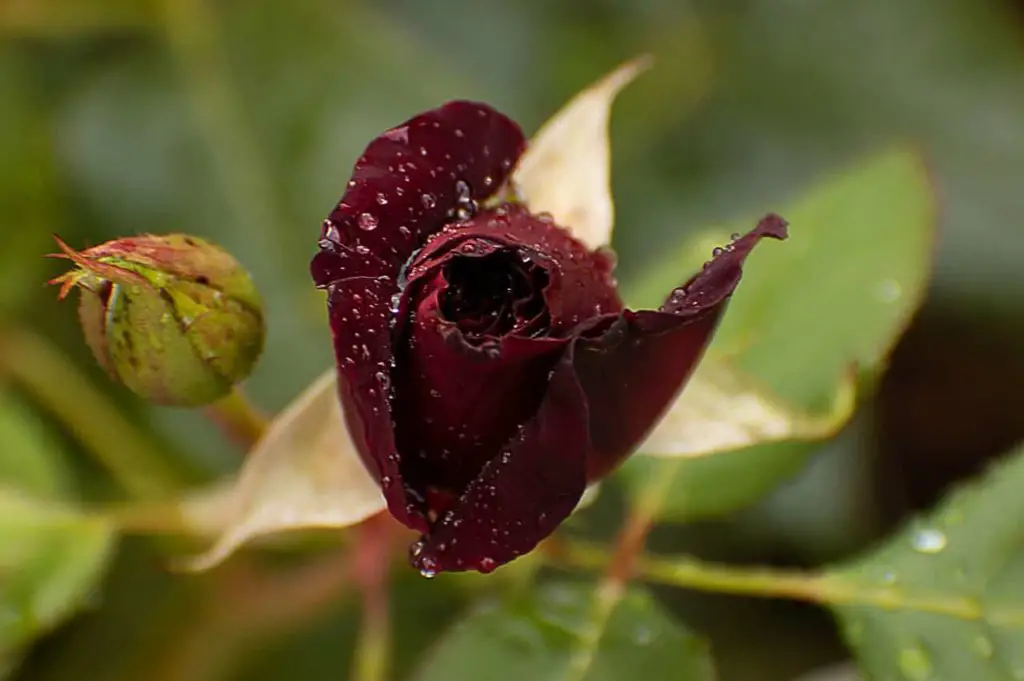 A captivating hybrid tea rose, this is a variety that is very nearly black. Black roses also have a lot of symbolism behind them. 
This rose makes a spectacular cut flower, and as the roses get older, they turn a striking blood-red. 
If you'd like to give someone black roses, but you don't fancy paying what can be an elevated price, why not grow your own?
They aren't too difficult to grow, as long as you plant them in well-draining soil in full sun. While they'd prefer a rich, loamy soil, you can mimic this with good compost and a good rose feed every so often. 
If cared for properly, this gorgeous plant will treat you to some of the most captivating displays of color possible in a garden.
Rosa 'Black Magic'
'Black Magic' is another fantastic rose when it comes to the darker hues. It's a very deep red, and flowers from early summer into mid-autumn, if there isn't any frost.
It's a slightly lighter shade than 'Black Baccara', but that doesn't mean you should discount it as an option, as it's gorgeous in its own right.
As a hybrid tea rose, you may occasionally get strange-looking shoots which will flower in a color other than the one intended. This is usually a variant of one of the parent plants, and you can either cut them off or leave them as an added bonus.
Hybrid tea roses make perfect cut flowers, and when it comes to roses, a little maintenance now and then is a small price to pay for such a fabulous display of color.
Iris 'Before the Storm'
While irises are available in a myriad of colors, some of the most striking are the darker colors, which provides a nice contrast to the flower's delicate and ruffled form.
'Before the Storm' is one of the most captivating darker varieties available, and has a very light fragrance. These beautiful blooms are nearly fuss-free, and you can enjoy their beauty for years to come. 
Like many irises, 'Before the Storm' needs full sun in order to get the best out of these flowers, and soil that drains freely.
Geranium phaeum 'Dusky Cranesbill'
Also known as the 'black widow', or 'mourning widow', this particular geranium creates a Gothic theme in any green space. 
It prefers partial shade, so it's best for woodland areas or damp and dark places within the garden, making it perfect for those tricky-to-fill spaces. 
The blooms point downward, and the center resembles a candelabra, just to add to the graceful and Gothic theme. 
After it has finished blooming, it's worth cutting back the 'Dusky Cranesbill' in order to promote vigorous and healthy growth.
Fritillaria camschatcensis 'Chocolate Lily'
As part of the lily family, this striking Fritillaria creates a mysterious display between May and June with its flowers.
The blooms themselves come in shades of chocolate, a purple-mahogany, or greenish brown, and sometimes they are flecked with yellow. 
The common name refers to its color, unfortunately, as this particular fritillaria produces an unpleasant fragrance to attract flies.
Some fritillarias are used as food staples in parts of the world, usually known as rice root. To remove the unpleasant nag, the small bulbs are soaked in water. 
They are then boiled, or added to soups and stews. 
Alcea Rosea Nigra 'Black Hollyhock'
The black hollyhock (see also Hollyhock Flower Meaning and Symbolism) is a truly inspiring sight, producing huge flowers which are very dark. These blooms are also accented by the white 'eyes' in the center of each flower.
These flowers are perfect for the middle or even the back of borders, and the plants can grow anywhere from 4 to 6 feet in height. The flowers themselves can reach 5 to 8 inches, which is perfect for a dramatic display.
They also rarely need staking, unless you plant them somewhere which gets a lot of wind.
Aquilegia viridiflora 'Chocolate Soldier'
'Chocolate Soldier' is perfect for attracting bees and other pollinators, acting as a magnet for important and beneficial wildlife. 
Aquilegias are very striking flowers which can grow in a range of conditions and positions within your garden, making them a truly versatile plant which you can repeat throughout your garden for added color and mystery (see also Aquilegia Flower Meaning).
These gorgeous blooms are also known as granny's bonnets, or columbines. They tend to appear in late spring, through to early summer, and are great all-round plants.
Arum Palaestinum 'Solomon's Lily'
Confusingly, the Arum palaestinum is also known as the black calla lily, or 'Solomon's Lily'. It's a plant that's very easy to grow, despite its unusual appearance.
In spring, it produces a nearly black spathe, and a very dark purple spadix, which offsets the foliage nicely.
As long as you plant it in partial shade, in somewhat moist soil, this plant will reward you with some of the most unusual flowers available.
It's also an edible plant, which has more than a few medicinal benefits.
Hemerocallis 'Black Magic Daylily'
One of the most beautiful varieties of daylilies you can get, Hemerocallis 'Black Magic' is wonderful for not being wholly dark, as it offers a superb contrast. 
Most of the flowers are a very dark mahogany, and the citrus yellow that daylilies are renowned for still make an appearance in the flower's heart, offsetting both colors nicely.
If that wasn't the perfect reason to grow them, 'Black Magic' is also a variety that produces plenty of flowers during the height of summer. 
Daylilies will offer some of the brightest displays during the day, though some blooms don't last into the next, while some flowers will last for days or even weeks. 
How long these flowers last can also be dependent on the weather, but during the flowering season, you will get new flowers nearly every day. 
Gladiolus 'Black Star'
During the middle of summer, this lovely gladiolus will produce very deep red flowers that will look black in most lights, and will reach about a meter high after about a year.
It's a great option when you want to add both height and drama to your borders, as gladioli often tower above other plants while creating huge sprays of color. 
They also have the plus of not needing much attention, though they will need staking in windy areas, and the flowers will benefit from a good feed during the season. 
Buddleja davidii 'Black Knight'
One of the easiest plants you can grow from seed and then leave it to do its own thing, the 'Black Knight' butterfly bush puts on the perfect parade of heavily scented flowers.
These flowers form in soft, spear-like clusters in a rich, dark purple, and you'll see them form within the first year. 
These will attract a huge amount of attention from pollinators, notably a lot of butterflies, adding a lot of life and color into your space. 
Butterfly bushes can get anywhere from 4 to 6 feet in height and spread. If you don't want them to get this large, they can also be grown in containers.
You can start these lovely plants off indoors in winter if you don't want to wait, and as soon as the weather warms, you can plant them out.
Akebia quinata 'Chocolate Vine'
The chocolate vine is very invasive, but a very dramatic plant that adds height and color wherever it climbs or rambles. 
If left to its own devices, it can grow up to 40 feet, and does have the unfortunate habit of strangling its neighbors.
Like most invasive, vigorous plants, it's extremely easy to grow. Plant it in normal soil that drains well, and it will soon spread.
So why grow it? The chocolate vine produces cocoa-scented flowers in a very dark purple in spring. These fantastic blooms are followed by edible fruit.
Helianthus annuus 'Moulin Rouge'
Sunflowers (see also Sunflower Meaning and Symbolism) are known for their dinner-plate sized blooms in rays of bright oranges and yellows, but did you know that you can get other colors, such as light pink, maroon, and green?
'Moulin Rouge' forms very dark burgundy flowers among the striking foliage. The seeds, of course, are a great food source for birds, but when it comes to eating the seeds yourself, you're better off getting a variety that's grown for that purpose.
Sunflowers are easy to grow from seed, but that doesn't mean they don't need some attention. 
As the plant grows, it will require regular staking, so that the huge stems don't tip or get snapped in the wind.
Salix gracilistyla 'Melanostachys' Black Pussy Willow
Black pussy willow, or Salix gracilistyla 'Melanostachys' produces nearly black flower clusters, during the late days of winter, and into early spring. 
Like other willows, this plant produces its male and female parts on separate plants. 
The flowers produced on this particular willow are a rich red-purple which looks black in most lights, and like any Salix gracilistyla, they make the perfect accent in cut flower displays or in their own right. 
Rudbeckia occidentalis 'Green Wizard' Coneflower
'Green Wizard' is a very striking rudbeckia which has lovely green flowers, (see also Top 21 Green Flowers That Look Amazing) but the cones are large and black, rimmed with rays of yellow.
While the petals can somewhat blend into their surroundings, the accents of the cone itself will stand out among the foliage.
These unusual flowers will bloom from midsummer into the early days of autumn, and will come back year after year.
Aeonium 'Blood'
This striking succulent is known for its nearly black fleshy rosettes, and in a bright but indirect position, this aeonium really comes into its own, looking like a black rose.
Solenostemon Coleus 'Black Prince'
One of the most striking perennial coleus types, 'Black Prince' produces solid black foliage, which is striking both indoors and outdoors. 
Primula Victoriana 'Silver-Laced Primrose'
The 'Silver-Laced Primrose' is one of the most interesting primroses you can grow. The flowers come in a deep black, with the petals lined in a silvery-white, featuring a golden eye at the center. 
It's been a favorite for gardeners for centuries. It also makes an ideal cut flower, each bloom featuring a light fragrance.